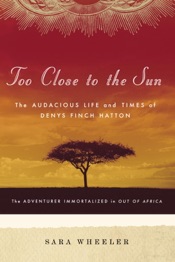 Denys Finch Hatton was adored by women and idolized by men. A champion of Africa, legendary for his good looks, his charm, and his prowess as a soldier, lover, and hunter, Finch Hatton inspired Karen Blixen to write the unforgettable stories in Out of Africa. Now esteemed British biographer Sara Wheeler tells the truth about this extraordinarily charismatic adventurer.

Born to an old aristocratic family that had gambled away most of its fortune, Finch Hatton grew up in a world of effortless elegance and boundless power. Tall and graceful, with the soul of a poet and an athlete's relaxed masculinity, he became a hero without trying at Eton and Oxford. In 1910, searching for novelty and danger, Finch Hatton arrived in British East Africa and fell in love–with a continent, with a landscape, with a way of life that was about to change forever.

Wheeler brilliantly conjures the mystical beauty of Kenya at a time when teeming herds of wild animals roamed unmolested across pristine savannah. No one was more deeply attuned to this beauty than Finch Hatton–and no one more bitterly mourned its passing when the outbreak of World War I engulfed the region in a protracted, bloody guerrilla conflict. Finch Hatton was serving as a captain in the Allied forces when he met Karen Blixen in Nairobi and embarked on one of the great love affairs of the twentieth century.

With delicacy and grace, Wheeler teases out truth from fiction in the liaison that Blixen herself immortalized in Out of Africa. Intellectual equals, bound by their love for the continent and their inimitable sense of style, Finch Hatton and Blixen were genuine pioneers in a land that was quickly being transformed by violence, greed, and bigotry.
Ever restless, Finch Hatton wandered into a career as a big-game hunter and became an expert bush pilot; his passion that led to his affair with the notoriously unconventional aviatrix Beryl Markham. But Markham was no more able to hold him than Blixen had been. Mesmerized all his life by the allure of freedom and danger, Finch Hatton was, writes Wheeler, "the open road made flesh."

In painting a portrait of an irresistible man, Sara Wheeler has beautifully captured the heady glamour of the vanished paradise of colonial East Africa. In Too Close to the Sun she has crafted a book that is as ravishing as its subject.